We know we have more than a few talented customers so don't be afraid to show your talent to the rest of us!
Please email us with details and pictures of your upholstery projects and any tips or advice you feel will be useful to our other customers and friends and we will share your work with the World! Do not forget to mention your name and your business details and we will add them to our site but if you would prefer to remain anonymous then just let us know.

---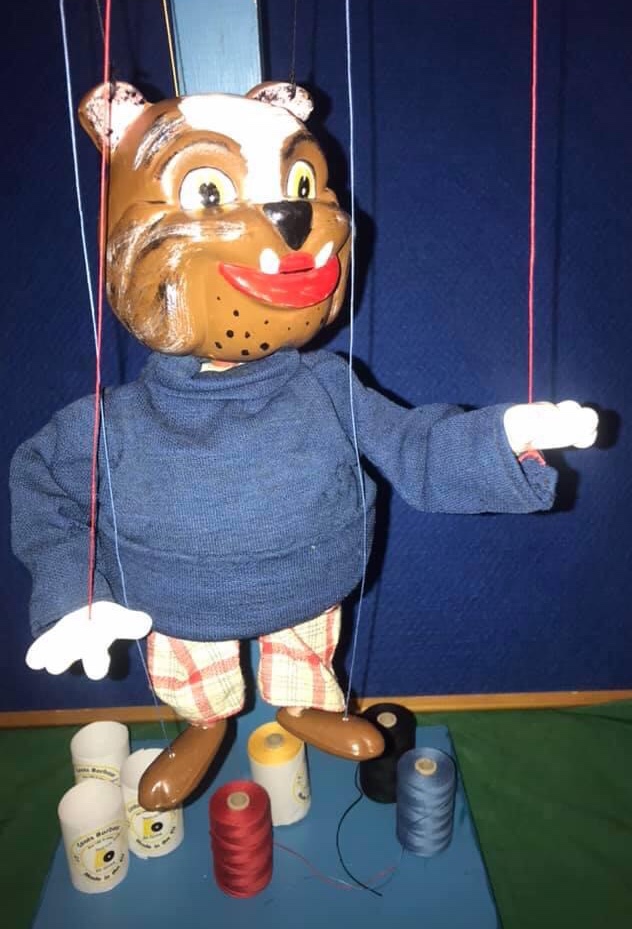 RESTRINGING PELHAM PUPPETS !
I'm a long-time collector of Pelham puppets, hand-made toys made in Marlborough, Wiltshire, England, between 1947-86. Literally millions of these puppets were made. Having been given to children to play with, they frequently ended up tangled. Exasperated parents often resorted to cutting the strings, as a last-ditch attempt at sorting them out. It never worked!
Finding a reliable source of 18/3 coloured linen thread to restring these old puppets, has always been a problem. I should know, I've spent over 20 years looking! A couple of my fellow Pelham collectors, put me onto the UpholsteryShop.co.uk.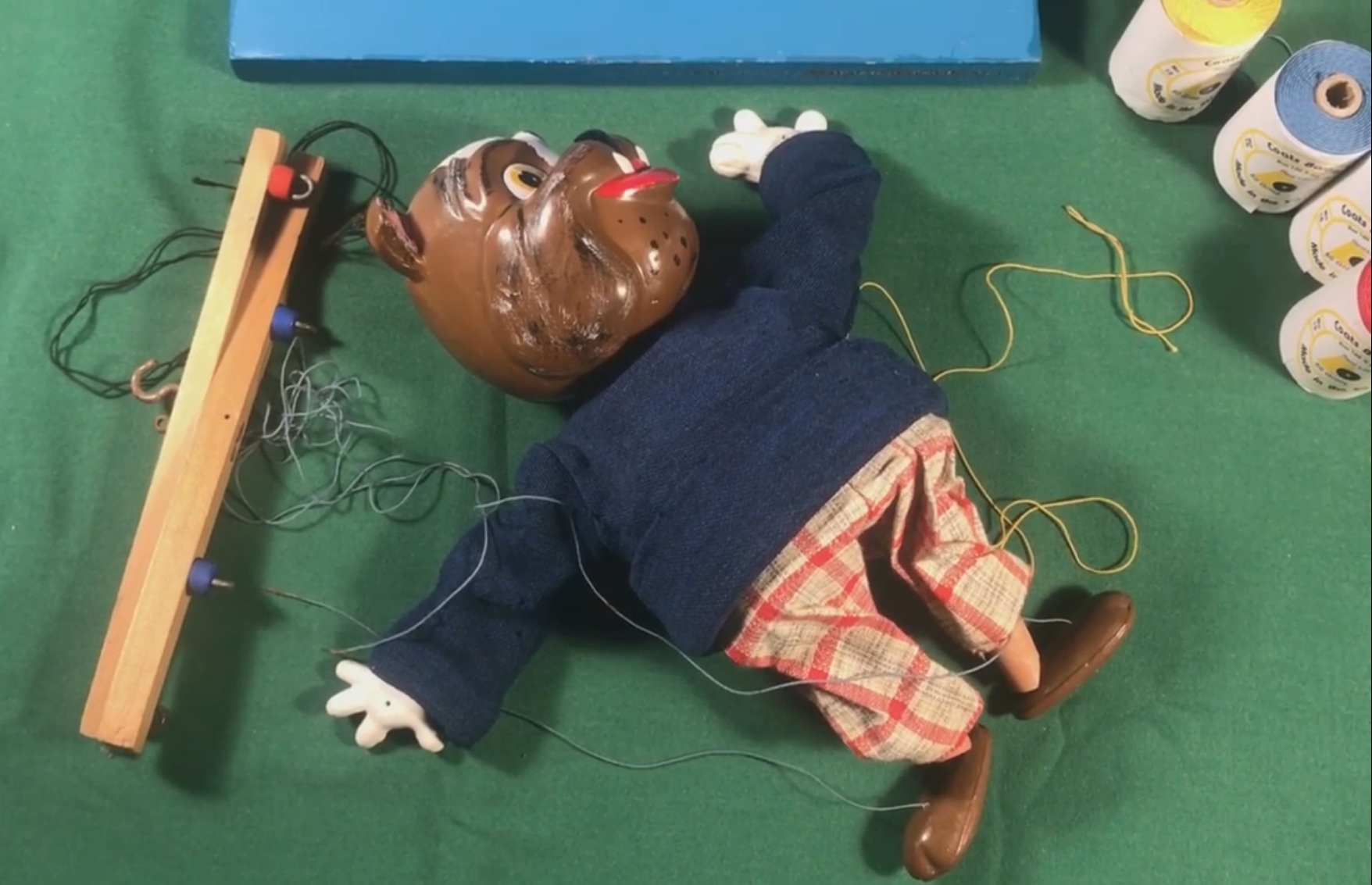 Your friendly and efficient service is brilliant. It is such a pleasure to order from you. Thank you. I've told all my Pelham puppet collecting friends about you too!
Best of all, the puppets that have been awaiting restringing for years, don't have to wait any longer! I'm absolutely delighted with the results, as are my puppets! You can find out more about my restringing techniques, and these puppets, on my Facebook page.
(This one is the Pelham puppet Bulldog, one of a range made in 1963)
'Wonky Toys – Pelham Puppets' on Facebook.
Pelham Puppet collector on "Collectaholics" (BBC2, 2015)
---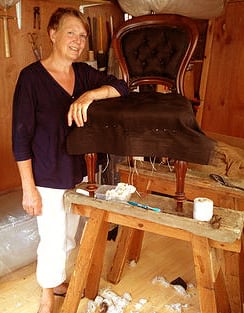 Hi everybody!
For many years I worked in the theatre as a set and costume designer where often a piece of furniture was hastily recovered for the stage. It was as a reaction to this impermanence that I decided to learn how to upholster professionally and so took the City and Guilds course in Upholstery at the London Metropolitan University, formally the London School of Furniture. I now have eight years experience to add the excellent tuition I received at college.
After the ephemeral nature of theatre, it is wonderful to get hold of a tired and broken chair and give it another life as a stylish and beautiful piece of furniture. I have also become fascinated by the history of the pieces I work on; the things that slip down the cracks (I have a great collection of old coins, pens etc) and the strange things other upholsterers have put into the stuffing. As you take them apart you find scraps of the previous top covers and the tack holes that give you clues as to how the chair looked in the past.
My Seat Caning skills were self-taught long ago with occasional phone calls to a colleague who has specialised in chairs for historic houses and other clients for many years. I now teach others this satisfying skill.
I offer a personalised service. I'm happy to visit you at home, measure up the piece of furniture, help with the selection of a top cover fabrics and braids and give you an inclusive quotation for the work.
Please get in touch and tell me the story of your chair.
---
One of our customers Alex May has been restoring an old sofa with amazing results and he has kept a blog of his work. You can follow his progress by visiting "The Indie Sofa".
---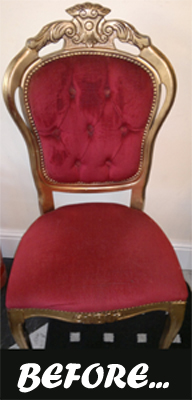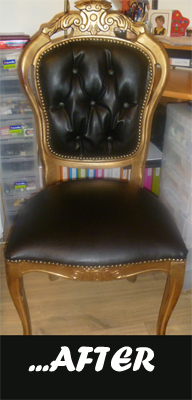 Svetlana Sirlan from Chatham, Kent specialising in dressmaking. Reupholstering set of chairs was her first experience and in our opinion it turned to be a success. Take a look at Svetlana's website to see her creations.
Chatham, ME5 9XD
---
Hi everybody!
I have a small business upcycling furniture TatteredElgance.
Personally we love to create the impression of layering and comfort with textiles and paint finishes.
Chairs in different shades, colours, reupholstering, all centred around a beautiful table creates this very feel. Many of our vintage finds are sourced from Antique dealers, furniture markets and reclamation centres.
Every item large or small is given the same care and attention to detail. Each piece is individual and you never quite know what the end result will be, but we have never been disappointed yet and the knowledge we have acquired when making our own bespoke furniture is invaluable.

---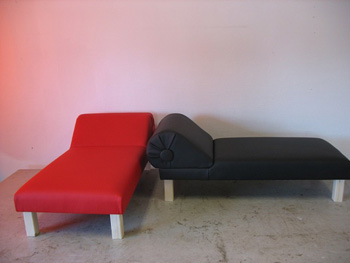 Good day to everybody!
I found your web shop on the Internet.
I see that you have free sheets to help your customers to do their own re-upholstery.

I am from the Netherlands and have written it all in Dutch. The videos are without words to make it easier to follow. With most chairs and objects I have made additional drawings with more technical details and tips for easier explanation.
For my Dutch audience I already have more slideshows, however since I am translating everything myself it will take a while before I can complete these for your site.
What I am trying to achieve is to have in one website with information and tips about all aspects of upholstery and fitting, in multiple languages. I would like to share my skills and the access is free.
If you like you can add the videos to your website. Perhaps your customers can learn something from them.
Hope you will l like to idea and looking forward to get some respond.
With kind regards
Marja Kooreman
Upholstery studio Marja Kooreman
---
Send us your upholstery projects, tips or advice!