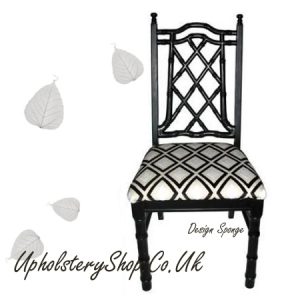 One of the most popular types of dining chair is that of the screw on seat made from chipboard, plywood or similar. Turn the seat upside down and position centrally on the foam. Mark around the edges with a felt pen allowing a margin of approx. 20mm (3/4" ) larger than the seat. Cut the foam using an electric carving knife if available or a fine toothed saw or knife. (A bread knife is fine).
The foam is then positioned on top of the seat and held in place with the spray adhesive. The foam should then be covered in the polyester wadding which is held in place by the spray adhesive.
The cover, which needs no preparation, is cut off allowing about 3 inches (75mm) more than the net measurements. If the cover has a large pattern or stripe in design it should be placed in the centre of the seat. If it is a pile material, then the pile should run from the back of the seat to the front. Fold the cover lengthways and cut a small nick across the folded corner. This will serve as your centre guide to a similar mark in centre of the front rail. Lay the cover face down on the bench and place the seat on top, foam side on the cover.
Pull out the fabric at the four corners of the seat and fix with four temporary tacks or staples. Check that the pattern is central and satisfactory before tacking off. This is done in the same order, back to front and then the sides, tacking or stapling about every inch. The corners are pleated on the underside of the seat to get rid of slack fabric.
A piece of black platform cloth or dipryl lining is tacked or stapled on the bottom to complete the seat. Mark the position of the screw holes to help you position the seat back on the chair frame.
Look at our Modern Screw On Seat Set. This kit contains all the materials you need to reupholster a set of dining seats (except the top fabric and specialist tools).