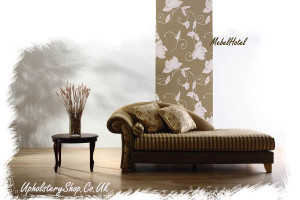 Most settee and chair cushions are filled with polyester fibre (Dacron, Hollowfill, Etc.) which consists of thin strands of polyester which are crimped to make it springy. The trouble is that in use it flattens out and the cushion loses height and looks flat and lifeless no matter how many times you try to shake or pummel it.

The best way to resolve this is to replace the cushion interior with a foam core (Blue Firm Grade RX39 Foam recommended) wrapped in bonded polyester and stockinet. To measure size of foam cushion needed, do not use old foam as it lost its shape by now; take a measurement from the cushion cover instead: to achieve a full fit for new foam pad, stretch cover slightly from corner to corner along the sewing seams (depth, width, length) while taking measurements.

This is quite expensive so an alternative is to buy 9oz x 27" Polyester Wadding and wrap it around your existing cushion interiors and hold it in place with Spray Adhesive. Then replace the interiors into the cushion cover and they will look as good as new.

Another alternative is to buy loose 'carded' polyester and open one of the seams on your existing cushion interior. You should be able to see one seam which is top stitched and can be opened with a sharp knife or unpicker tool. Stuff the carded fibre into the channels inside the cushion then sew the opening up by hand. The problem with this method is that it is hard to avoid the cushion looking 'lumpy'. When the cushion interior is manufactured the fibre is blown into the cover which ensures even filling which is not so easy (but not impossible with care)!

Take a look at the full Polyester Waddings range.